A 2 person sauna is surprisingly affordable and convenient
If you thought these units were out of your reach because they are too large, too expensive, or too difficult to install, we have great news for you! Our beautiful, customizable 2 person sauna enables you to experience healing and deep relaxation in the privacy and comfort of your very own home. Maybe you feel you don't have the necessary skills to perform the sauna assembly yourself, or you feel that the system will simply be too big to fit into your home.
An easy to install 2 person sauna for every budget and home size
Let us put your concerns to rest. Our 2 person saunas are truly easy to install, and are designed to accommodate your budgetary and use-of-space needs.
Easy Installation – With only 16 furniture bolts required to install most models, 2 people can easily assemble this simple, yet sturdy system, using only a Phillips head screwdriver. The simple instructions, pre-drilled bolt holes, and color coded electrical system make setup a snap. For those who prefer, we offer White Glove Assembly Service featuring our trusted, nationwide network of bonded, insured technicians.
We offer a feature rich two person sauna to fit most budgets –

 

We offer low interest financing to help your budget with this small investment in your long-term personal health upgrade. Call us today and we'll help you select the best location for a 2 person sauna in your home.
Efficient use of space –

 

2 person saunas are compact, and can be tucked into small spaces. Make one the centerpiece of an in-home basement workout room, or add a Sunbrella™ outdoor weatherproof cover to transform your unit into a back porch paradise.
Cozy and intimate –

 

Thanks to its convenience and privacy, your in-home infrared sauna can become an intimate couples retreat. You'll love how it brings you and your spouse or significant other closer together to share quality time.
Energy efficient –

 

Far infrared light energy directly heats your body to produce a soothing, healing warmth, rather than using oppressive hot air temperature. These units are very energy efficient when compared to the energy cost of running a traditional sauna. Typical electrical cost to operate a 2 person model is 4-10 cents per hour.
Great Value – We custom design and hand fabricate each state of the art model we sell, so you know your unit is built to provide a lifetime of genuine health benefits and relaxation. Rocky Mountain Saunas offers the highest quality far infrared sauna available anywhere, at a fair and competitive price.
Check out these 2 person home sauna units
The Colorado Infrared Sauna Cleanse your body from the inside out, and relieve your aching muscles in our most popular 2-person model, the Colorado far infrared sauna. The Colorado brings you all the health benefits of infrared sauna therapy, in a small footprint, and with a low price tag. It is an easy to assemble personal sauna and utilizes a standard 110V/15A outlet, so you can use a standard household outlet and begin to experience the proven results almost immediately. Explore features, specs, and images of the Colorado In Home Sauna – the safest and most technologically advanced sauna on the market today.
Family Owned. Family Operated.
We are proud to provide the highest quality product and personalized customer service. Our family members ensure that your investment in a beautiful home sauna is pleasant and rewarding experience. We invite you to discover the comfortable and satisfying experience of relaxing and healing your body in your new personal spa oasis. Call us today at 1-888-358-1270 for more information on how to bring luxury and wellness into your home.
-23%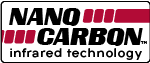 The custom designed Colorado Infrared Sauna is your avenue to optimal health.  Loaded with Standard Features, the Colorado Sauna is the most popular in design seating up to 2 people...
View More about Colorado Model